Become Bodywise
Consulting & COACHING
Megan Moseley, PT
---
Body-Mind Integrated Healer, Passionate Teacher, Dynamic Speaker
---
In addition to her clinical practice, Megan is the founder of Become Bodywise Consulting, and Coaching.
Megan teaches us to THRIVE, not just survive. 
She is driven by the belief that humans have the innate ability to heal, and that to maximize our healing potential, we must address not only the physical limitations of pain and injury, but integrate methods that optimize our mental, emotional, and spiritual well being. Megan's unique and timely perspective to whole-self health, and healing synthesizes 33 years of experience as a physical therapist, with training in interpersonal neurobiology, somatic psychology, and nervous system regulation. She holds certifications in Embodiment Coaching, The Resiliency Toolkit, Trauma Release Exercise, Pilates, and Yoga. Passionately integrating her deep understanding of human physiology, developmental psychology, movement science, and somatic therapies.
Megan coaches us to literally, "Become Bodywise". She calls this, "Core Work For The Soul". Megan teaches us how to tap into the wisdom of our own bodies to find our true ALIGNMENT:
Authentically Living, Integrated in body-mind-soul, Grounded in the Now, Mindful, Empowered, and Naturally Thriving. 
---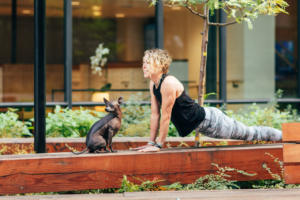 Beyond her work, she balances her life as an avid cyclist, live music lover, art appreciator, outdoor adventurer, spiritual seeker, excellent sleeper, home remodeler, and curious connector with everyone she meets. She can often be found with her constant, and loving companion Fabio, a 7 year old Xoloitzcuintli. 
"Megan's deep understanding of human physiology and movement science combined with somatic therapies offers a unique, embodied approach to align the body, mind, and spirit, and heal the whole self"
"Megan works at the highest level of mastery, effortlessly combining healing touch, wisdom, and intuition." 
POPULAR PRESENTATION TOPICS:
Core Work For Your Soul
Using Somatic Resiliency Tools, and Embodied
Inquiry to Tap Into Your Body's Wisdom
Being vs Doing Improve Your Focus and Effectiveness
Through Embodied Presence Practices
Body Language The Key to Unlocking Your Personal Power
Alignment: Body-Mind-Spirit Coming Home To Your Whole Self
---
UPCOMING TALKS:
Rancho La Puerta Spa Tecate Mexico, June 2022
Becoming Bodywise: The Art Of Tapping Your Body's Wisdom To Build Resiliency, And Heal Trauma.
---
PREVIOUS PRESENTATIONS/EVENTS:
---
Megan is a captivating, and entertaining speaker, and has presented in several venues.
Salt and Straw Leadership Conference, April 2022
Becoming Bodywise: How to Tap Into Your Body's Wisdom to Live and Lead with Authentic Alignment
Cycle Oregon 2008 – Present
Annual Presentation on Stretching and Injury Prevention
CycloFemme Event; Past, Present, and Future Of Cycling. Portland Art Museum. 2013
The ABC's of Pain Free Cycling
Rancho La Puerta Spa Tecate Mexico 2011, 2012
The ABC's and 123's of living pain free presenting a 5 day progressive class,
OBRA Hand Built Bicycle Show 2009, and 2010
Balance your Body: Stretching and Injury Prevention for Cyclists
Western Oregon Women's Conference, Eugene Oregon 2005, 2006
The Relationship of Good Posture and Positive Body Language: A Healthier, Happier, More Efficient and Effective You.
Occupational Therapy Association of Oregon State Conference 2006 Guest Speaker
The Anatomy and Differential Diagnosis of Upper Extremity issues
Oregon Pain Society Conference, 2003 and 2005.
Guest panel participant/speaker assessing the effects of different treatment options on the same client.
Join the Evolution
Become Bodywise